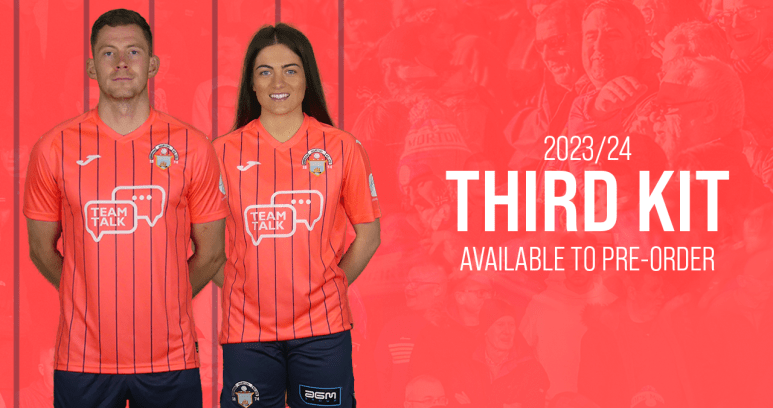 New 2023/24 Third Kit available to pre-order
Greenock Morton are today excited to launch our new third kit for the coming season.
As part of the launch, we are delighted to announce that thanks to the generosity of our main sponsor Dalrada, the Morton in the Community initiative Team Talk will be the front sponsor of this new kit.
Alongside Team Talk, Cardwell Garden Centre, HungrySquirrel.com, Fisherman's Dock and AGM Group will all be represented on the kit.
Team talk is a mens peer support group held at Cappielow every Monday between 6pm and 8pm. The award winning project gives men aged 16+ a safe place to talk, to listen and feel included.
Team Talk has been running for over 4 years and has helped over 50 men in the local community. The project is funded by Inverclyde Health and Social Care Partnership, for more information please get in touch by emailing Jonny, jroy@mortoncommunity.net
The main colour of the new kit is coral fleur with dark navy stripes and although not an exact replica, the dark navy pinstripes pay homage to the home kit made iconic by the late Alan McGraw.
Speaking on the launch, Club Director, Graham Barr, said, "It's great to be launching our new third kit today. It's something a little bit different than we've had in recent years.
"It's phenomenal for us to be able to have Team Talk represented on the front of the shirt, a fantastic initiative run by Morton in the Community. A massive thank you must go to Dalrada for making that possible."
"Team Talk was born four years ago and aimed to battle the negative stigma around men's mental health. Team Talk is a relaxed setting every Monday at Cappielow to have a cuppa and have a chat. We are grateful to everyone who has participated as well as the funding we have received to make a positive impact on mental health," added Jonny Roy, General Manager at Morton In The Community.
Pre-orders will be available from Smiths from Saturday 17th June with a full launch on Saturday 24th June at 11am in store.
Please be aware of the following when purchasing the new third top:
No long-sleeved option available
The smallest size available will be Age 2-4
The largest size available will be 4-5XL
Due to Joma sizing it is recommended to order one size bigger in the adult top.