Cappies's Corner
"Cappie's Corner" is an initiative to provide a quiet space for families to attend matches at. Situated in the main stand at Cappielow, this space has been developed in partnership with families in order to provide a positive safe environment for all in attendance.
The space includes sensory equipment and a calming environment for families to enjoy the game and cheer Morton onto victory. Fans in attendance can also bring their own sensory aids that will make their experience feel more like home.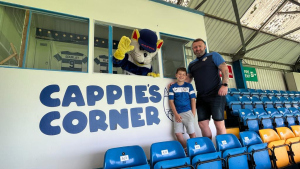 When this space was launched in July 2022, Brian McLaughlin, Chief Executive, Morton in the Community said "I am extremely thrilled to see the launch of Cappie's Corner for season 2022/23. This space is a real opportunity for families to attend the game and remove potential barriers to attendance.".
Cappie's Corner is for fans who would benefit from a more relaxed, calming environment to watch the game with their family.
For Saturday home games, the space will be used for fans aged 5 – 16years* and for evening games this space is available for fans aged 16+ .
*space provided for maximum of a family of 4, which included 2 adults and 2 children and must be from the same family.
**Please note spaces are limited and this will be on a booking basis only.
Cappie's corner will be available every home game.  For more information and availability please email; info@mortoncommunity.net