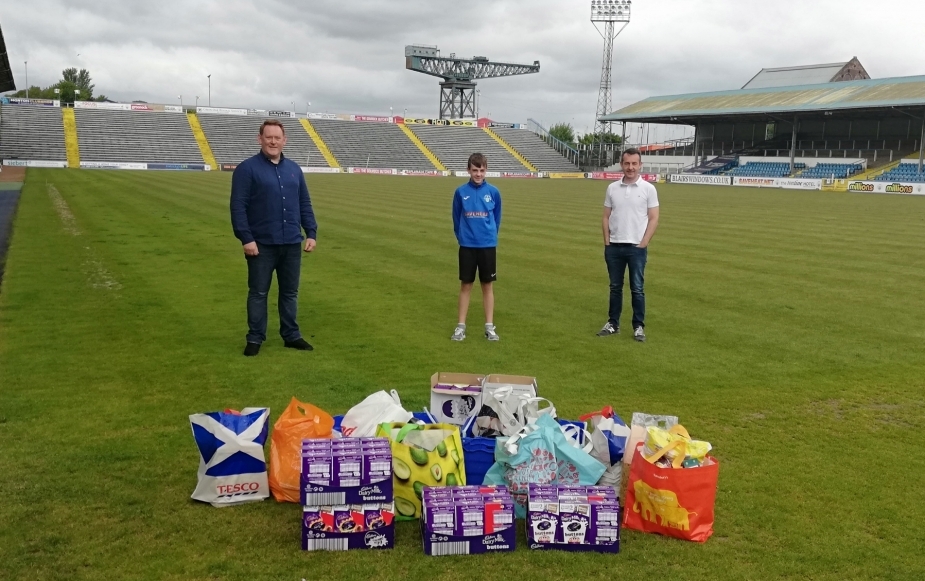 Morton At Centre Of Community with Inverclyde Foodbank.
Once again, your club showed its commitment to the wider local community today, when Cappielow Park flung open its doors to become a repository for Inverclyde Foodbank.
Through social media, the public were invited to come down to the ground and leave bags of food so that others, less fortunate, could benefit.
The initiative came from Club Chaplain, Alistair McAlees who has seen at first hand the difference that a local foodbank can make to people's lives.
"The congregation at the Church set up the scheme in association with the Trussell Trust." explained Alistair. "The idea is that we have referrals from outlets such as Social Security and Jobcentre Plus to tell us who is entitled to a package. We then make up a three-day emergency parcel depending on the size of a family."
According to Club CEO, Dave MacKinnon, this was an initiative that Morton were very willing to embrace.
"We have been looking into ways of assisting the community as these are difficult times for a lot of people. Alistair advised us that there is a desperate need for food collections and we felt as a club that this would be great way to help."
Members of the First-Team squad including, Chris Millar, Aidan Nesbitt and Jim McAlister dropped in to lend a hand whilst Manager, David Hopkin was also on hand to show his support for a very worthwhile project.
As a local boy himself, the 'Ton gaffer was delighted with the response and the donations.
"We reached out to Alistair and asked if there was anything we could do to help and he came back to us with this idea." he said. "I am delighted to see the turnout that we have had and it was good to see the players come down today as well."
In addition to the substantial amount of food that was collected there was also an anonymous donation of £200 handed in to Dave MacKinnon and the CEO suggested that this could be a venture that the Club would try again.
"Well, the Manager and the players came in and did their bit and if it is a success then it would certainly be a vehicle to do on a regular basis. We want to help out where we can."
That was a view that David Hopkin heartily endorsed, telling the website that, "We're just trying to do what we can for the people in Inverclyde to get through this pandemic and being able to help as a club is the main thing."
Naturally enough, Alistair McAlees was delighted with this news and the response from the public.
"Every little bit helps." said the Club Chaplain before adding, "The Foodbank is always looking for supplies and help so if anyone wants to get involved then just log-on to Inverclyde Foodbank where there is an email and Facebook account. We are always looking for volunteers."
KRISTY MCGUNNIGLE  ALASTAIR MCALEES AND DAVID HOPKIN
If you would like to get involved with Inverclyde Foodbank then the number is 01475 787177 or 07506530638. In addition, Hope Community Church are in partnership with "Christians Against Poverty" (CAP) which specialises in financial help and they can be reached on Freefone – 0800 328 0006.