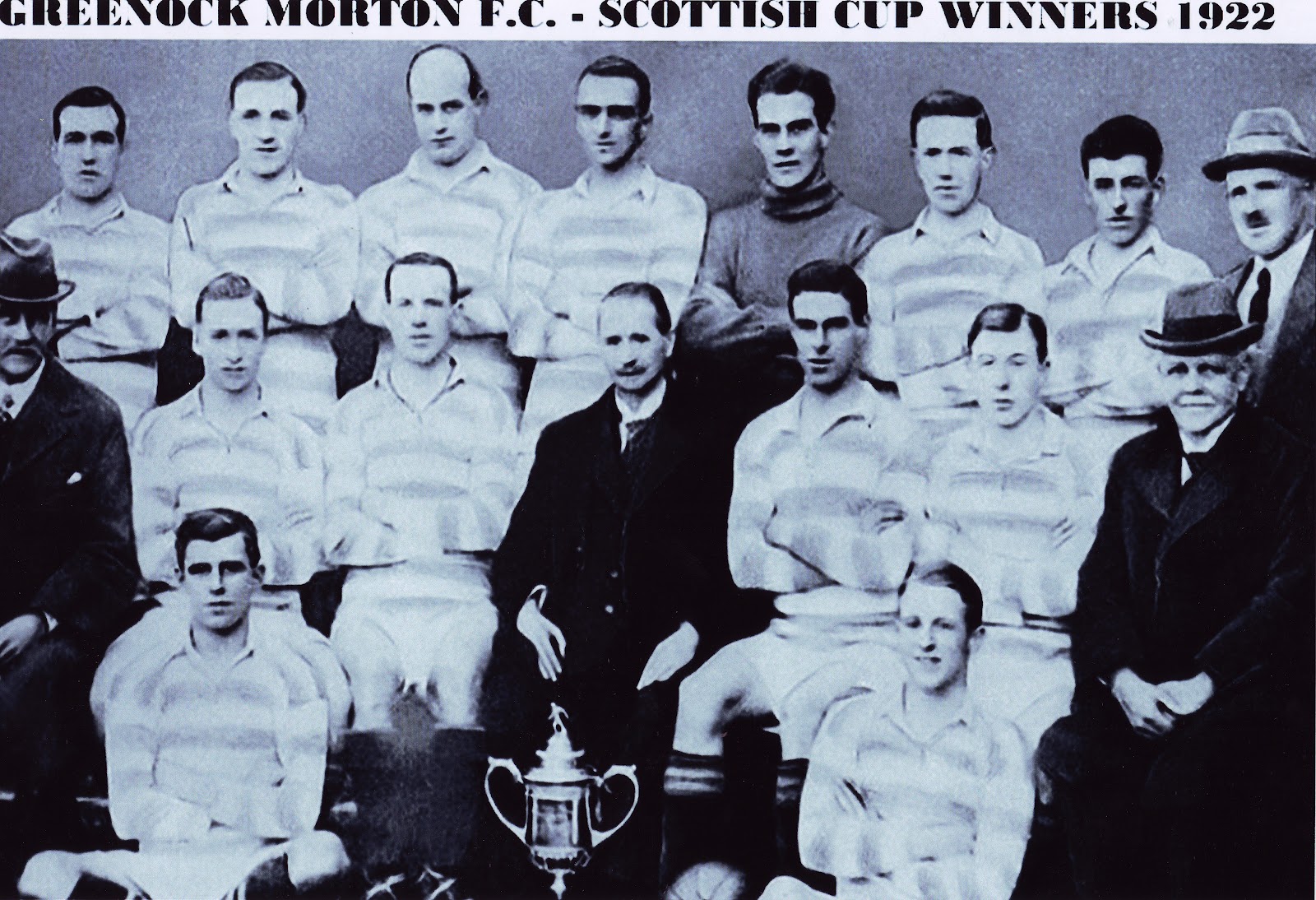 1922 SCOTTISH CUP ANNIVERSARY WEEK SNIPPET | 14/04/22
GOURLAY'S GOLDEN GOAL
From The Scottish Football Book 1957/58
"Never had a Cup Final side taken such a battering as on that blue and gold day in 1922, when Rangers threw everything at Morton. Heroics and miracles, however, kept the eager Ibrox forwards out. And JIMMY GOURLAY'S golden goal gave Morton the Cup.
Right-half Jimmy Gourlay, who later became his club's trainer, will never forget that moment. The Rangers' goalkeeper was penalised for handling the ball outside the penalty area. Calmly, Jimmy ran up to take the kick. Coolly he lobbed it into the net. It was as simple as that.
Yet it was one of the most amazing goals in the history of the Scottish Cup. For it brought the trophy to Morton, who were reckoned to have no chance against the mighty Rangers.
Jimmy Gourlay recalls a poignant tailpiece to that great goal.
On the Monday following the Cup Final, Rangers played Queen's Park in a vital league match, rearranged from Saturday. Rangers needed the points to keep the pressure on league leaders Celtic at the top of the league. For Queen's it was a vital relegation match.
Rangers were awarded a free kick because the Queen's goalkeeper, Newton, carried the ball outside the area. Queen's Park players asked the referee : "Can Rangers score direct from this kick?" "No", said the referee. So the Hampden boys watched as Rangers' Danish player Carl Hansen lobbed the ball into the almost unguarded net.
The Rangers players were annoyed when the referee disallowed the effort, saying  " We lost the Cup on Saturday to exactly that type of goal."  So the referee changed his mind and awarded a goal, although the Queen's players protested heatedly. That goal, which gave Rangers a 2-1 victory, ultimately cost Queen's their place in the First Division that season.
The final word  went to Jimmy Gourlay . "Aye" he mused, "you get some funny breaks in football!" "
And as a post script to the cup winning goal, some said afterwards, but wrongly, that the Rangers' defenders were ignorant of the fact that a goal could be scored from a free kick awarded for a goalkeeper carrying the ball outside the penalty box. Rangers themselves denied this, saying that their players knew all right, but just hadn't been able to stop Gourlay's curling shot.