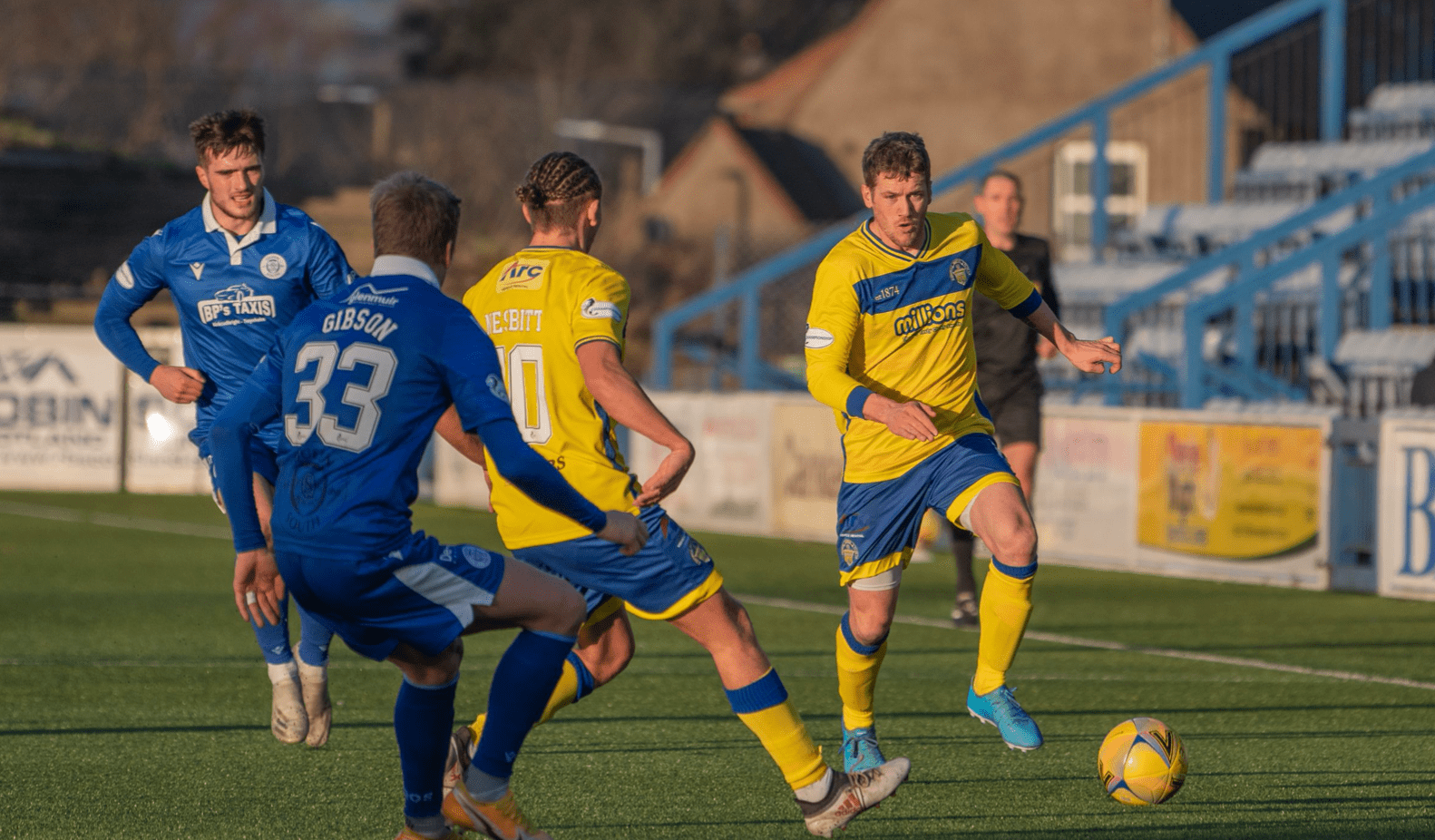 Match Report | Queen of the South 2-1 Morton
Queen of the South 2-1 Morton
Obileye (15), Fitzpatrick (27) – Orsi (58)


by Brendan McEleny
A much improved second half performance was not enough on Saturday as Morton suffered their first defeat of the year, losing 2-1 to Queen of the South at Palmerston in the Scottish Championship.
Ahead of Saturday's game, the 'Ton were enjoying a run of games undefeated and manager Anton McElhone made just one change to the team that drew 0-0 against Dunfermline with club captain Jim McAlister returning to the starting eleven to replace Rabin Omar.
The Sinclair Street side would look lively in the first few minutes and Aidan Nesbitt was quick to test the opposition defence by fizzing a low cross along the box that had to be cleared out for a corner kick by Calvin McGrory.
Despite an optimistic start, the hosts would open the scoring of the game on 14 minutes. A corner whipped into the box by Rhys McCabe found Ayo Obileye who headed beyond Aidan McAdams' reach for his fourth goal of the season.
From then the Doonahmers pushed further and doubled their lead on 26 minutes with a great individual goal from Aidan Fitzpatrick. The midfielder, on loan from Norwich, picked up the ball around 35 yards out, darted towards the goal and with a number of Ton defenders around him managed to slot the ball passed McAdams and into the net.
The 'Ton started the second half well, hoping to find a way back into the game and they went close on 55 minutes when Jim McAlister found Lewis Strapp unopposed in the box but the defender's effort was fired over the bar.
Continuing to press forward, the Greenock men were given a lifeline on 58 minutes after Aidan Nesbitt's shot from the edge of the box was parried out by Ferguson to the feet of Kalvin Orsi who knocked the ball into the open goal from a few yards out.
The momentum of the game had truly shifted as Anton McElhone encouraged his side to get the equaliser and Aidan Nesbitt had a great attempt on 75 minutes but left footed shot whisked wide of the post.
Up the other hand of the park though, Queens were showing signs that they could still strike at any minute and Aidan McAdams was called into action and pulled off a solid save to deny Connor Shields who tried his luck from the edge of the box.
A massive chance for Morton came on 84 minutes when Michael Ledger delivered the ball to the back post finding Craig McGuffie who knocked it across to Aidan Nesbitt right in front of the goal but the ball took a tricky bounce and the midfielder sent it over the cross bar.
Saturday's defeat meant that the 'Ton dropped down to 5th in the league table but a double header against Inverness and Arbroath this week provides them with a massive opportunity to ascend back into the play-off positions.
Morton (4-2-3-1)
McAdams
Ledger Fjørtoft McGinty Strapp
Lyon McAlister
Salkeld Nesbitt Colville
Orsi
Subs used: 15. Craig McGuffie (for Reece Lyon, 54), 21. Rabin Omar (for Cameron Salkeld, 54), 11. Gary Oliver (for Lewis Strapp, 78)
Unused Subs: McLean, Muirhead, Blues, Wallace
Booked: Lewis Strapp (60), Michael Ledger (81)
Queen of the South: Ferguson, Gibson, Breen, Obileye, Maxwell, McGrory, McCabe, East, Pybus, Fitzpatrick (Mebude, 76), Shields
Unused Subs: Goss, Joseph, McKechnie, McMahon, Sylla, Maley
Referee: Alan Newlands

Image: Gary Bradley