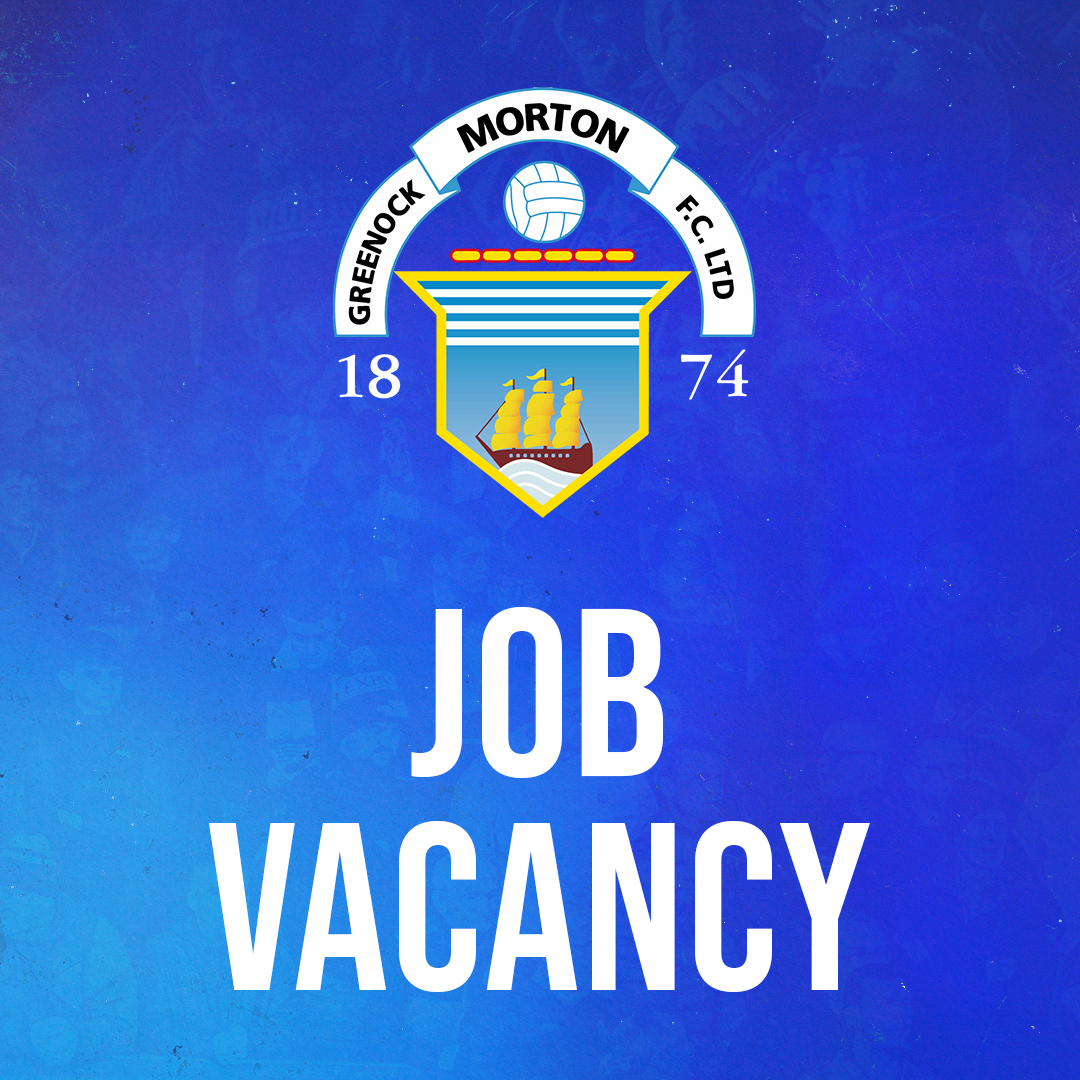 Job Vacancy | Club Secretary
Job Title: Club Secretary

Reports to General Manager

Key Contacts Internal – Head of Departments, First Team, Academy, Community

Key Contacts External – The Scottish Football League, The SFA, SPFL, PFA

Location / Requirements Based at Greenock Morton Football Club Offices located at Cappielow Park,
Sinclair Street, Greenock, PA15 2TY together with regular duties at the Clubs First Team Training
Ground and Academy. Due to the nature of the post, evening and weekend work will be required based
around the Club's home First Team fixtures.

Hours/Remuneration – 40 hours – Remuneration commensurate with skills and experience.

Job Purpose To oversee and carry out the football administration duties of the football club, primarily
focusing on the First Team, as well as where required assisting with the Clubs operations, ensuring
policies and procedures are implemented in line with best practice.

Duties and Responsibilities
To facilitate and deliver the registration and re-engagement of all First Team players in
accordance with the regulations by which the Club is bound. This will include all player
contracts, registration, loan agreements and transfer documents, using when required UEFA
& FIFA procedures.
Responsible for ensuring compliance with all rules and regulations of the various football
authorities, and that all relevant paperwork, submissions and surveys are completed on time.
To ensure all internal operating manuals, procedures and guidelines are developed and
updated.
Co-ordination and maintenance of all disciplinary matters and records, including where
necessary preparation of appeals.
Act as the main contact person for both general member and club queries, as well as keeping
our membership, season ticket, and general ticketing systems in order and accurate.
Maintain and keep up to date all Players' medical insurance and physio records, ensuring
management are notified in a timely fashion. Liaise with the medical department over medical
examinations and billing enquiries.
Management of all the various procedures within the SFA / SPFL system.
Liaison with all football bodies, i.e. day to day contact with The Scottish Football Association,
Scottish Football League, Both the Highland & Lowland League, The PFA and other relevant
authorities and attend meetings as and when required.
Organise logistics for all away fixtures for the first team, football management and Directors,
confirmation of MFC directors' home and away attendance. Confirmation of away opposition
board room attendance, arrival times and dress code.
To manage the scheduling of all First Team competitive & noncompetitive fixtures, as well as
the arrangement of match officials for all First Team and home fixtures. Applicable to other
stadium matches when required.
Management of the data information relating to the First Team payroll, including bonuses and
the recording of effective contract changes and triggers.
Attendance at all first team home matches and liaison with away clubs for home and away
matches.
Other duties outside of this specification as directed by the General Manager or Directors.
To lead the operations of all match days at the stadium working in partnership with the Safety
Officer to ensure stewards, medical staff and match day staff and volunteers are organised.
To forge a strong relationship with the Safety Advisory Group, always ensuring compliance.
To oversee the annual certification of stadium infrastructure including the Structural Survey,
Crush Barrier Testing, Boilers, Fire-Fighting Equipment, PA Systems, Emergency Telephones,
CCTV, Turnstiles, Emergency Lighting & Alarms.

Personal Specification

General – Business management certificate preferable with a focus on business administration or
similar, and/or -Previous 3 years' experience in a similar role, proficient on payroll systems, and with
the ability to demonstrate a high level of numeracy and literacy. – Excellent IT skills including Microsoft Office, database/CRM experience, cash handling and creditor management.

Qualifications

Valid full (UK) driver's licence
Advanced DBS Disclosure

Skills, Knowledge & Experience

IT skills to include the ability to use Microsoft Office (Excel, Word and Outlook)
Previous experience of events operations
Knowledge and experience of policy development and implementation
Experience of working in a professional sports club
Experience of complying with SPFL operational requirements
Strong organisational and administrative skills
Excellent communication skills
Accurate timekeeping skills

Attitude/Behaviours

Takes responsibility for ensuring a high quality of work
A genuine team player who will support and motivate other members of the team
An adaptive individual who can cope well in high pressure situations
A proven ability to multitask and manage multiple projects

Personal Qualities

Hardworking, Honest and Enthusiastic
Meticulous attention to detail
Understands the importance of confidentiality and integrity at all times
Seeks to learn and develop daily

How to apply

Please send your CV and covering letter to graham.barr@gmfc.net by Friday 27th October 2023.

The recruitment process is likely to involve a personal interview.

Greenock Morton is an Equal Opportunities Employer. We celebrate diversity and are committed to
creating and maintaining an inclusive environment for all employees.