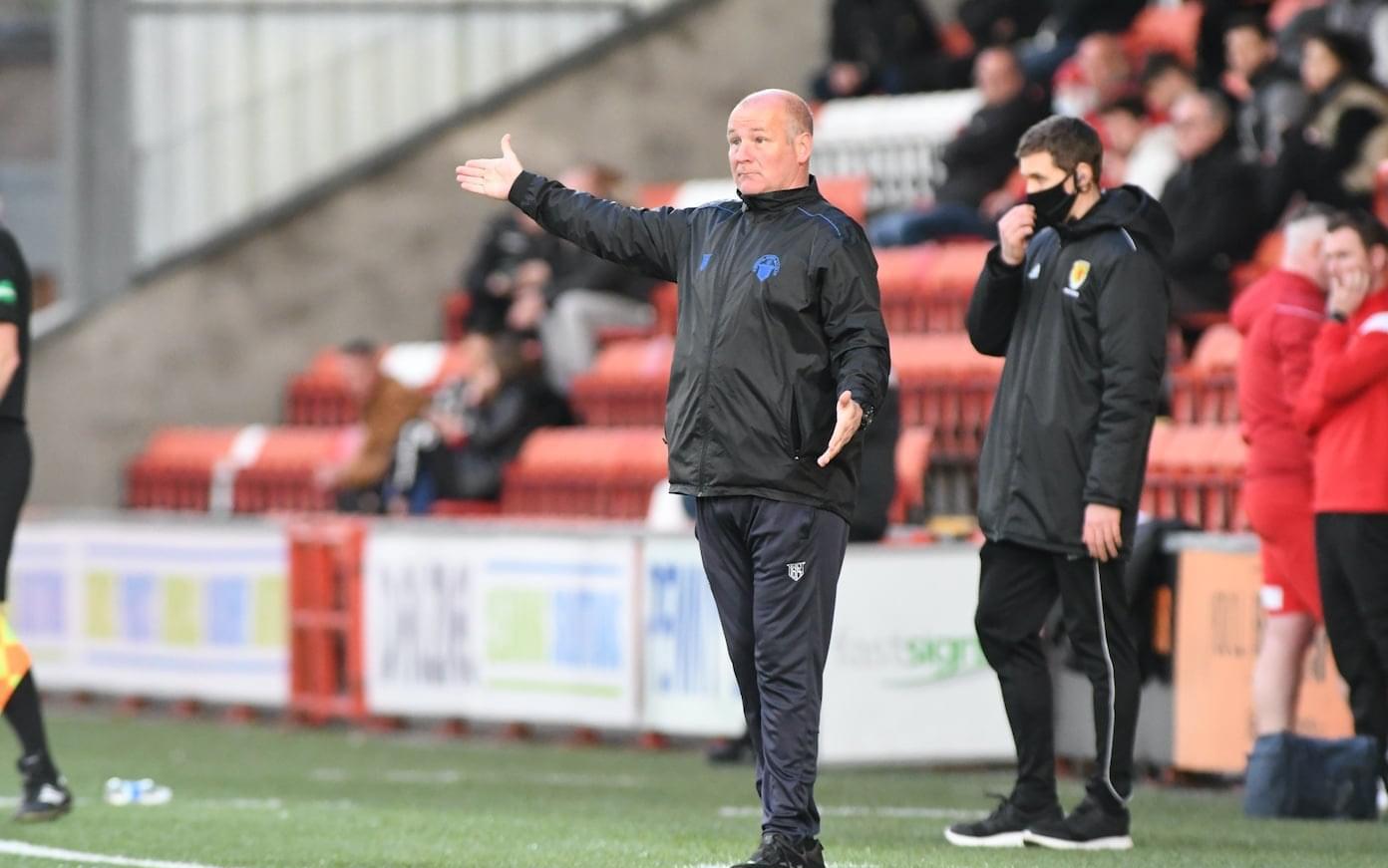 Interview With Gus MacPherson
Following last night's game, Manager Gus MacPherson spoke to gmfc.net to give his thoughts on the performance, pre-season, and preparations for the coming season.
Speaking about the East Kilbride game, Gus said, "The positive we take from last night is that some game time was available for 7 or 8 of the senior players who got 90 minutes into their legs.
"We also had some of the young players getting an opportunity a lot earlier than they probably would have ever imagined but they had good guidance from senior players like Kyle Jacobs the captain and Alan Lithgow in the defence.  We had to change the shape because of personnel and to protect the younger players a bit, but it was worthwhile to get the game on and get the bonus point on penalties."
Speaking about new goalkeeper Jack Hamilton following a clean sheet on his competitive debut, Gus said, "We were very patient on the goalkeeping front.  We had a couple of trialists in and we were close to doing a deal with one of them, but we were always hoping that Jack could become our number one option.
"He was away on pre-season training in Ireland with Kilmarnock, and we were prepared to wait.  When you get the chance to bring in someone with Jack's quality, experience, and with the sort of person he is in and around the club it is great, and we were delighted to be able to sign him.
"All of the new players have a great work ethic and have complimented the players we already had.  Jack's come in and played a part in that as well and hopefully we can add further to that.  We want it to be a good environment for the players to come into their work and obviously to be competitive on the park."
Discussing pre-season, the Manager said, "The first couple of weeks of pre-season were tough with some really hard sessions in there but the boys came through it unscathed.  Fitness levels were good anyway as it was only a few weeks since the season had ended but the boys have done well.
"The key thing in pre-season is to not pick up any injuries which has been the case, it's just unfortunate that we've been hit with Covid in the last week which has affected the group, but we just have to deal with that.  The most important thing is the health of the staff and the players.
"The players are conscientious, we'll be back in on Monday preparing for the games against Kilmarnock and Clyde and then obviously the focus will turn to the league."
On the squad and ongoing recruitment, Gus said, "I'm looking to strengthen in every area.  We would still like three or four more players across the squad to cover defence, midfield and the attacking options but it will always be complimented by the young players as well.
"We're going to work with tighter numbers and a smaller group which will give younger players an opportunity.  You can see there's younger talented players within the academy structure and I'm always a great believer that you have to leave that window of opportunity there for them.
"We've made enquiries regarding two or three loans but we're obviously dependent on the other clubs on that in a number of different aspects.  We are in that market with a lot of other clubs, and it depends on our needs and the level of clubs we're competing against as well.  There are a few things bubbling under and hopefully we can get them over the line over the next couple of weeks."
Although supporters were unfortunately unable to attend last night, the Manager, and everyone at the club is looking forward to having fans back in Cappielow.
Gus said, "It was frustrating last night because of the circumstances that we couldn't have fans back.  We experienced it in the playoff game against Airdrie, the atmosphere that can and will be generated by supporters being in.
"If people within football are being honest, we've probably taken supporters for granted for a long time, but when they're not there you appreciate the importance that they really have.  As a player, coach, manager, you just get used to supporters being there, but they are the ones who really generate the atmosphere for the players.
"The Airdrie game was so positive, and the players fed off that.  Sometimes it is up to the players to get the supporters going as well but really, it is a partnership.  Once we get fans back in, we want to create that positive atmosphere that we had against Airdrie and move forward as a football club.  I don't think anybody should or will underestimate the importance of supporters in a stadium again."