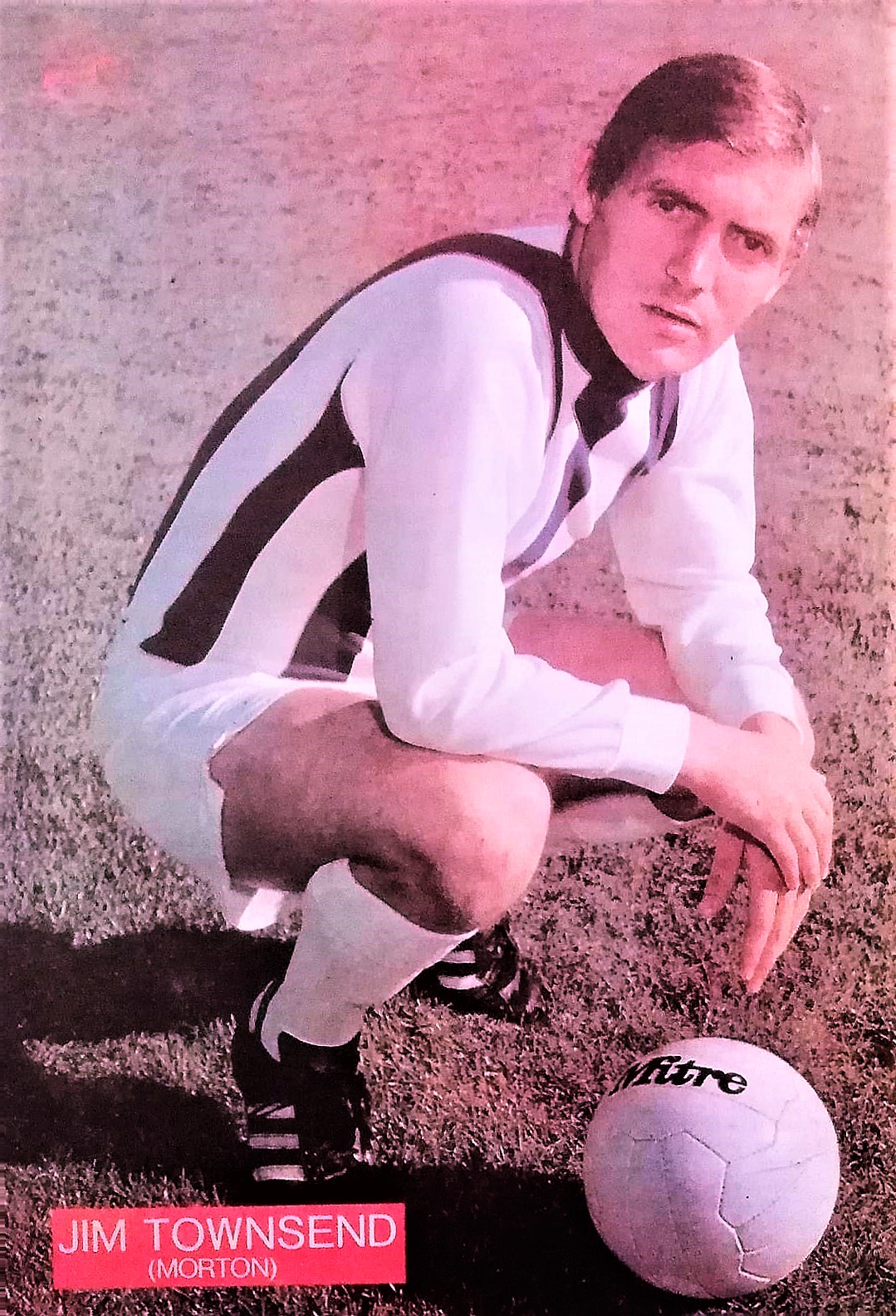 Jim Townsend (1945-2020) – An Appreciation
From the pen of Niall McGilp
Greenock Morton Football Club was deeply saddened to hear of the death of former captain and player-coach Jim Townsend, who passed away on Monday 19th October in Canada, at the age of 75.
Jim was born in Greenock and as a youngster played for Port Glasgow before being snapped up by St Johnstone as a 16-year old in January 1962. He played just over 2 seasons at Muirton Park, as a wing-half or inside forward, before earning a £27,000 move to Second Division Middlesborough in February 1964. Whilst at Ayresome Park, he played 67 games for Boro, scoring 6 times, before returning to Perth for a further season, in 1966/67. In total, he played 103 games for the Saints, netting 11 goals.
In April 1967, Townsend was snapped up by Hearts, for a reported fee of £19,000 and almost immediately was selected to join a Scotland squad for a tour of Australia and New Zealand, where he played 8 times in unofficial games. In all, he was at Tynecastle for 5 years, scoring 12 goals in 148 appearances. He was an influential and skilful midfielder for the Edinburgh club.
And so to Cappielow, and a return to his home area at the age of 27. With the departure of Manager Eric Smith, coach Stevie Chalmers and veteran Joe Mason in quick succession, Morton Managing Director Hal Stewart paid Hearts a reported fee of £12,000 to bring in Jim as player-coach in October 1972, and he subsequently fulfilled that role for new managers Erik Sorensen and Joe Gilroy until May 1976, when he moved to Canada, with London City in Ontario. There was a further playing spell with Morton in 1976/77 season, under Benny Rooney, with Jim's final appearance against St Mirren on New Year's Day 1977, a match that made headlines for the wrong reasons. He returned to Canada as Head Coach of Windsor Wheels in 1977.
Jim scored just once for Morton, on 25th November 1972, at home to Kilmarnock, when his Man-of- the-Match performance included an 18th minute hook shot from an Alex Reid cross to put Morton ahead in a match that was won by 2 goals to one. In total, he made 88 appearances for Morton, with his leadership in the dressing room, his hard work and coaching expertise on the training ground, and his polished footballing skills on the park, adding up to a very significant and valuable contribution over more than four years with the club.
Jim Townsend RIP