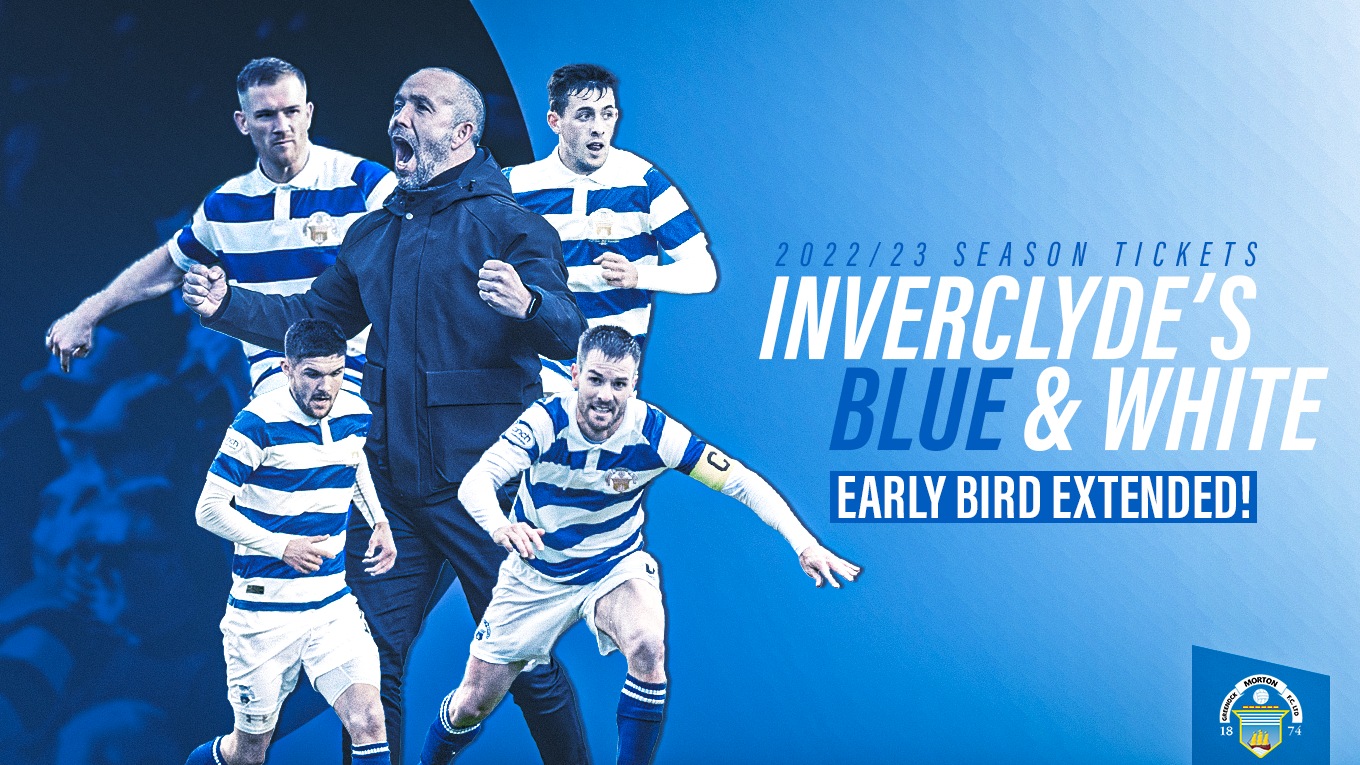 Inverclyde's Blue and White | Early Bird Extended
To celebrate passing the 500 season tickets sold mark, the club will be extending the Early Bird deadline until next Wednesday at 4pm!
We can't wait to see you at Cappielow soon!
Season tickets for the 2022/23 campaign will provide supporters with savings on the price per game, with an adult early bird ticket costing just £16.38 per game, a concession early bird ticket costing just £11.67 per game and a 12–17-year-old ticket averaging £6.11 per game.
We also recognise the importance of our future generation of supporters and are pleased to be able to continue to offer free season tickets to our supporters under the age of 12.
As a club, we have tried to keep season ticket prices as low as possible despite many of our costs (such as energy) rising recently, while also ensuring we are able to provide the manager with the maximum possible first team budget.  Your backing is huge, and every season ticket purchased contributes towards the sustainability of the club.
We are pleased to continue the option of paying your Season Ticket via direct debit and will be using GoCardless to provide this service.  This will allow supporters to spread the cost of their season ticket over six months again this year.  There will be a £10 direct debit fee included for anyone choosing this option.
Season Ticket prices are as follows:
Adult (Main Stand/Terrace)
MCT Member Price – £295
Full Price – £320
Concession (Over 65s, 18-20 year-olds) (Main Stand/Terrace)
MCT Member Price – £210
Full Price – £220
Child (12-17)
Full Price – £120
Child (under 12)
Free – Please email admin@gmfc.net.
To purchase your tickets in full online, visit and login to – https://www.gmfctickets.co.uk/
Direct Debit Options:
Full Adult Tickets
MCT Full Adult (MAIN STAND) – https://pay.gocardless.com/AL0004K167KGGG
MCT Full Adult (TERRACING) – https://pay.gocardless.com/AL0004K16304J7
Purchase At Cappielow
Season tickets can also be purchased by visiting the main office at Cappielow between the hours of 10am-12pm and 1pm-4pm Monday-Friday or by calling 01475 723571
Purchase from Smiths
Purchases/renewals of adult and concession terrace tickets can be made from Smiths of Greenock between opening hours of 9am and 5pm Monday-Saturday.
Livestream Update

Following on from discussions, the club can now confirm that 'TonTV will continue to show matches live for all international viewers.
For UK based supporters, all matches purchased on 'TonTV will be available for on-demand viewing the following day.
International viewers with a season ticket will have live access to all home games throughout our 2022/23 cinch Championship campaign with UK based season ticket holders having access to every match on-demand.
The production of the stream will be different from the last couple of seasons and exact details will be confirmed in due course.
Season Ticket Additional Terms and Conditions
Direct Debit Agreement
Greenock Morton will be using GoCardless to collect direct debit payments for season tickets for the 2021/22 season.
The Club will be using the Morton Club Together platform which is used to collect membership monies.
Direct debit payments set up in May will be paid over six payments – May, June, July, August, September, October.
The club reserve the right to deny access to anyone who misses a payment with the direct debit.
Should you miss a payment, the club will contact you to discuss the situation before taking action to deny you access.