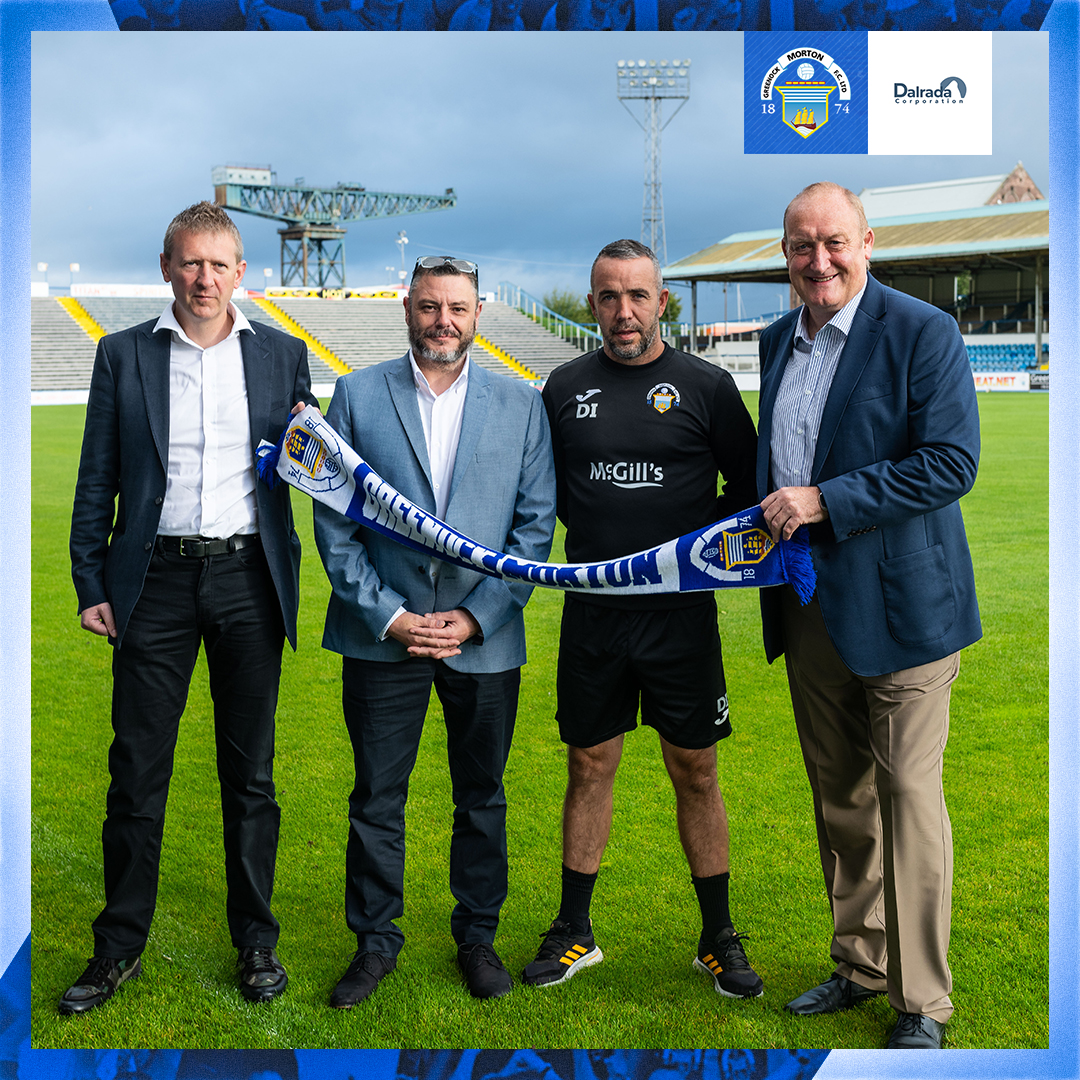 GREENOCK MORTON ANNOUNCE RECORD COMMERCIAL PARTNERSHIP WITH DALRADA TECHNOLOGY UK
Greenock Morton and Morton Club Together (MCT) have today announced an exciting new commercial partnership with Dalrada Technology UK. This partnership, which is the largest independent one in the club's history, will see Dalrada take the naming rights for the stadium. Going forward the stadium will be known as Cappielow Park supported by Dalrada Technology UK.
In addition to financial investment, the partnership will also give the club access to the infrastructure and resources of Dalrada. This will take the form of benefiting from linking with Dalrada's IT development and marketing teams. These connections will be hugely beneficial
to club and will help support a drive towards improving fan experience and fan engagement moving forward.
Sam Robinson, MCT Director said "As a community club, it is important for us to establish partnerships with values driven organisations.
"The initial MCT contact with Dalrada was based on a desire to reduce our carbon footprint and we will explore opportunities to utilise Dalrada technology to achieve this. As the conversation developed, we established that there was a common desire to see football as a
platform for good to support social inclusion."
Greenock Morton Finance Director Michael Harkins said "We are absolutely delighted to be announcing our new partnership with Dalrada Technology today.
"It has been no secret that funds have been tight at the club and we have been working hard to generate new income. This partnership is a significant financial one for Greenock Morton, and alongside the continued support of the amazing MCT membership, is one that gives us a really strong foundation to build from."
As part of the new partnership, Dalrada representative Ross Gourdie has been appointed to the club's board of directors. Ross is currently CEO of Premier Air Charter and holds a UEFA Class B coaching license meaning his addition will bring some valuable business and football knowledge to the Board.
On the partnership and his appointment, Ross said, "After initially speaking with the board and discussing their future plans, Dalrada technology was very keen to help bring these plans to fruition. Hopefully this partnership and my appointment will help to play a small part in securing a prosperous future for the club."
Also speaking on the launch of this exciting new partnership, Bill Bonar, Dalrada Technologies CEO – Europe, said, "As a kid growing up 'up the strone', a lot of my happiest memories were going to watch Morton play with my dad, Colin, who sadly passed away last year at IRH, my 'Papa', wee Harry, and my late uncle George Calder. My father took my son Dylan to Cappielow when he was younger and work/travel commitments prevented me from going.
"To this day you still encounter the 'which team do yae support?' question, with the expected answer being Rangers or Celtic, and my answer has always been Greenock Morton. Why would I support any team but my home team?
"Dalrada Technology look forward to working with the club to reduce their carbon emissions, and reduce their energy costs, by utilising Dalrada's technology and experience in the Energy Services market. We will also be working with the club to modernise their offerings, in terms of team and supporters' apps, social media and marketing, and working with the club to give back to the community that has supported them for almost 150 years. We are excited for the future of the club, our partnership, and hope to expand the relationship in the future."
Morton Director Graham Barr also added, "Everyone at the club is looking forward to working with Dalrada to move Morton forward. Community ownership has always been a long-term project, and this new partnership gives us a fantastic opportunity.
"For the club to have access to the resources and expertise that Dalrada are going to provide is going to be extremely valuable for us. We operate with a small team of hard-working staff, and this additional support will enable us to drive further forward in areas that have been a challenge."