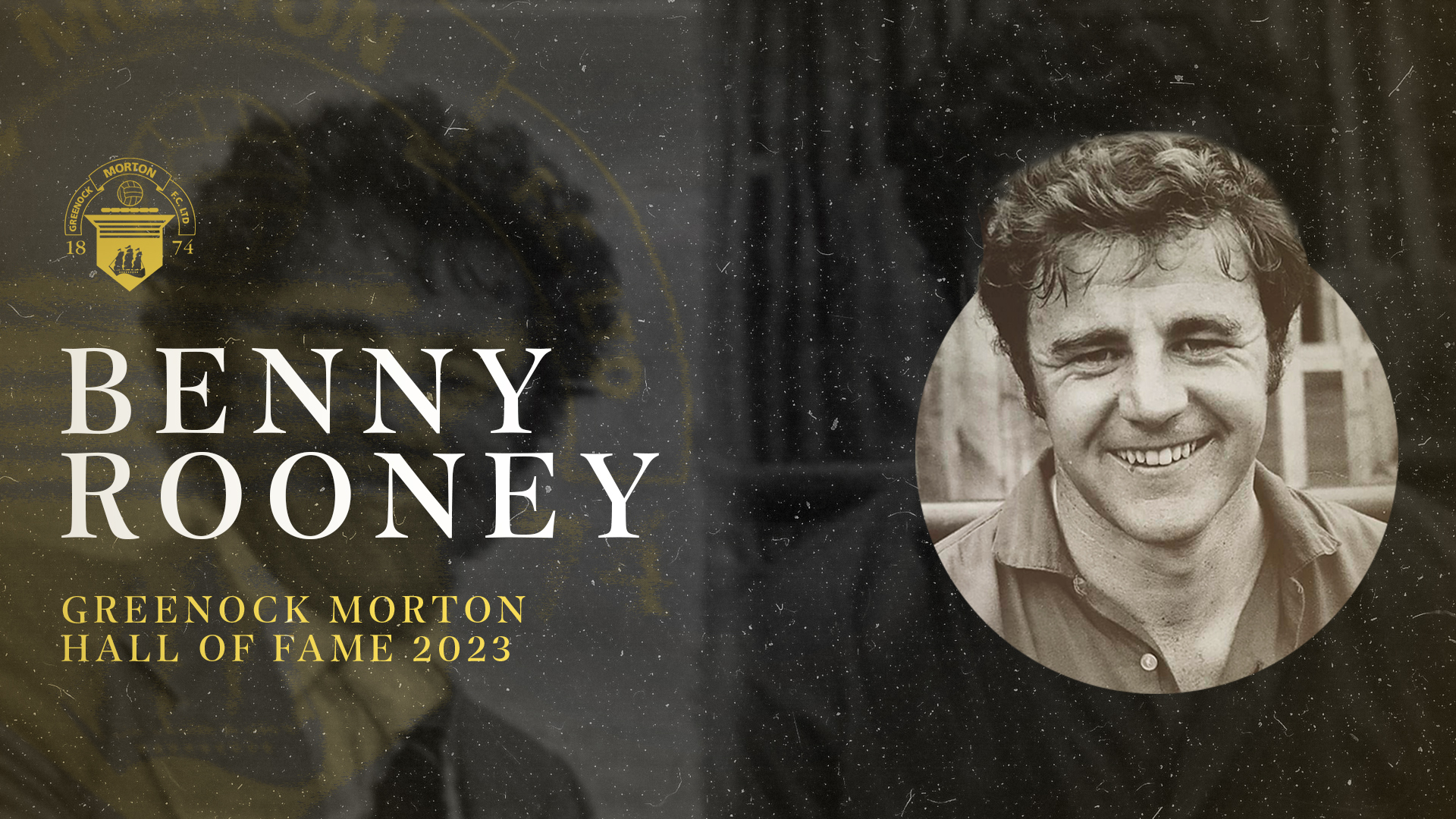 Final 2023 Hall of Fame Member Announced
Greenock Morton are delighted to announce that Benny Rooney is the fifth and final member of the Hall of Fame Class of 2023!
Benny will be inducted alongside Erik Sorensen, Peter Weatherson, Davie Hayes and David Wylie this Saturday night at 'An Evening with Morton'.

Benny Rooney bio by Niall McGilp
In the mid-1970s, Morton were at a low ebb. The club had failed to secure a place in the new Scottish Premier Division, and in season 1975/76 came perilously close to dropping into the third (and bottom) tier of the new structure. Change was needed, and it came in the form of Benny Rooney, who was brought into the club as Player-Manager . Benny's playing career had encompassed Celtic, Dundee United, St. Johnstone and Partick Thistle. 
His Morton playing career was short, just 6 League Cup sectional ties in the opening three weeks of 1976/77 season, before he hung up his boots to concentrate of his coaching role. His squad was a mixture of seasoned pros such as John Goldthorp and Jim Townsend, promising youngsters like Neil Orr, Mark McGhee and John McNeil, and developing talent such as Davie Hayes and George Anderson. Benny quickly added to the team, bringing in Jim Holmes from Partick – converting him from a midfielder to a full back- and significantly, in October securing Andy Ritchie from Celtic, plus cash for keeper Roy Baines.
Ritchie was an immediate hit and Morton finished the season, with a 16-match unbeaten league run, in 4th spot, with Ritchie and McGhee scoring 48 goals between them over the season.  The run continued into the following season with 10 wins and 1 draw in the opening 11 league matches, Rooney's team creating a new club record of 27 unbeaten league games, surpassing all the records set in the early 1960s. Jimmy Miller and Tommy Veitch were brought in, but Rooney had to cope with loss of star striker Mark McGhee to Newcastle in December, for a £150,000 fee. However, the club kept picking up points and secured a famous promotion to the Premier Division, and ultimately the First Division Championship, after a nervy 3-1 home win against Airdrie.
Rooney strengthened the team further, signing players like Jim Rooney, Bobby Thomson, and the returning Roy Baines, as well as Mike Jackson as Assistant Manager. New talent such as Jim Tolmie and Joe McLaughlin emerged from Allan McGraw's reserve side. What followed was an incredible 5 years in the 10-team Premier Division, briefly topping the table in December 1979, with two semi-final appearances in national cup competitions.  There were U-21 and League honours for Neil Orr, Joe McLaughlin, Jim Tolmie, Andy Ritchie and Bobby Thomson. 
In 1979/80, Morton were in 3rd spot going into April, but a late collapse cost the club a European place. During the first two seasons in the Premier Division, home crowds averaged 8,000; but these levels couldn't be sustained, and the team which Rooney had built gradually broke up with Orr, Thomson and Tolmie leaving within 6 months of each other. Despite a valiant fight, Morton were relegated from the top flight in 9th place in 1983, and the directors announced that they were letting Rooney, and Jackson, go on financial grounds. It was an unbelievable and unexpected decision, described in the press as "remarkable and astonishing." 
Allan McGraw described Benny Rooney as "one of the great Morton Managers -he sorted the whole club out and changed it for the better." Despite the understandable bitterness surrounding their departure, both Rooney and Jackson, describe their time at Morton as "the best years of their careers". Benny Rooney's induction into the Morton Hall of Fame is richly deserved and long overdue.