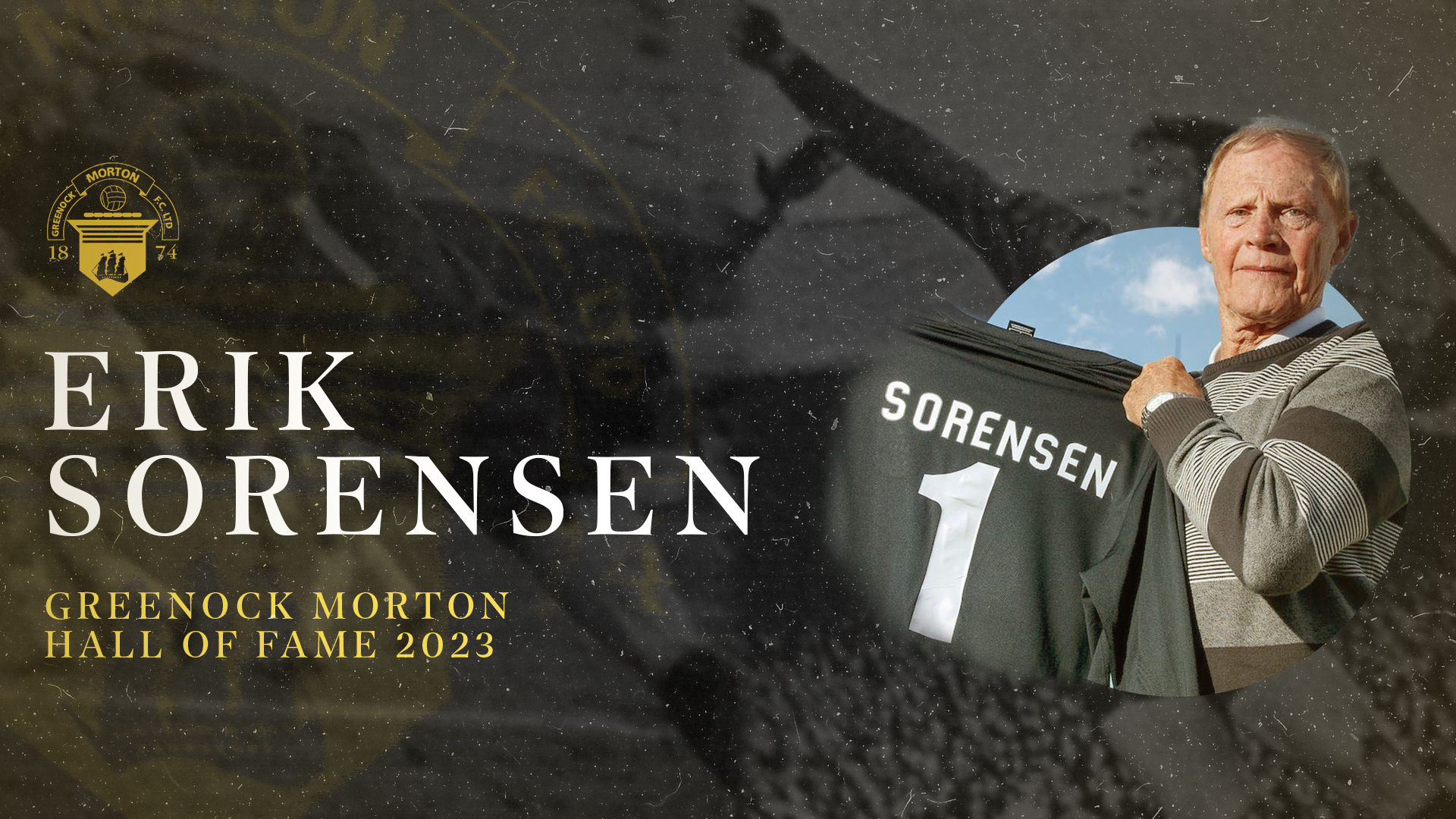 Erik Sorensen named first Hall of Fame inductee of 2023
Greenock Morton are delighted to announce that legendary Ton goalkeeper, Erik Sorensen, is the first member of the Hall of Fame Class of 2023 and will be inducted at our end of season 'An Evening with Morton' event!
Erik made 232 appearances for the club across two spells and picked up 69 clean sheets, the fourth highest for a goalkeeper in the Club's history. Following his playing days with the club, Erik was appointed Ton manager in 1974, a position that he spent roughly 18 months in.
The Greenock Morton Hall of Fame was launched in 2014 to celebrate the contribution of individuals who have made a significant impact on the club over our proud history and we are honoured to now add Erik Sorensen to this special group.
Erik Sorensen bio by Niall McGilp
Morton's signing of Denmark's international goalkeeper in March 1964, was big news in Scotland and in Denmark.
Morton had just secured Second Division Championship, after 12 years in the lower league. Having ripped through the league, losing just one game, manager Hal Stewart was preparing for life in the top flight by playing friendlies against better quality opposition. One such game featured Danish side Bronshoj. Morton won 3-2, but their keeper excelled and when the Morton boss enquired about his availability, another keeper, Erik Sorensen, was recommended.
He had played 10 times for the strictly amateur Danes, who had reached the Euro 1964 Finals in Spain, a brilliant achievement as they were one of the "final four." Erik's move to Morton brought an end to his international career, until the amateur rule was relaxed years later.
Erik's Morton debut was at Cathkin Park, in another midweek friendly game against  top-flight Third Lanark; listed only as "Trialist", he was christened  as "The Man in Black" by the press, who asked "Who is Morton's Mr X?". Erik's identity was revealed a day later by master publicist Hal Stewart. He announced his greatest ever signing, describing him as the second-best keeper in the world, behind famous Russian Lev Yashin, who also played in black!
Sorensen was a wonderful 'keeper, super-fit, incredibly hard working, and technically well ahead of many of his Scottish counterparts. He spent the following three seasons at Cappielow, eventful times which featured a League Cup semi-final appearance against Celtic  in 1964, a frustrating relegation in 1966, and promotion back to the First Division in 1967. During this period, he made 155 appearances for Morton, amassing 48 clean sheets, including a record-breaking 24 shut-outs in 1966/67 season, when Morton conceded only 20 league goals in 38 games. 
Erik was one of 9 Danish internationalists to feature for Morton, and like full back Kai Johansen, and namesake Jorn Sorensen, he moved to Rangers, signing in July 1967. Gone was the all-black strip in favour of Rangers traditional yellow top.
Three years later Erik re-joined Morton, initially as back up to fellow experienced Danish international Leif Nielsen. Nielsen's serious injury two months later thrust Erik back into the starting line-up and he was to enjoy two more years of top-flight action for Morton, making his final appearance in November 1972.  Two final things to note.
Firstly, Erik was restored to the Danish squad and won 5 more caps in 1970/1971 as a Morton player. Secondly, at the end of 1970/71 season he kept five successive clean sheets, becoming only the second Morton keeper to do so, after Jock Bradford in 1916. (Craig Coyle equalled this achievement in 2003). And in doing so, Erik went 537 minutes without conceding a goal, which remains a Club record. 
His second Morton spell extended Erik's record to 232 appearances and 69 clean sheets, the fourth highest for a goalkeeper in the Club's history. He continued as goalkeeping coach, with his "student" Roy Baines taking on first team duties. Erik also turned out for the reserves. In February 1974, he was appointed team manager, a role he performed for roughly 18 months. Indeed it was Erik who brought Allan McGraw back to the Club as Youth Coach.