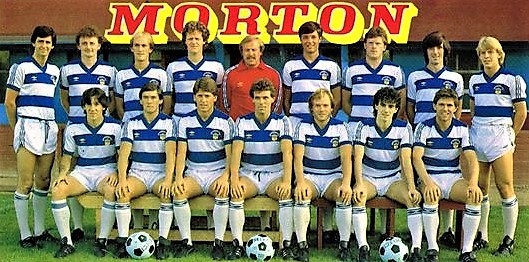 Eddie Gavigan (1963-2020)
by Niall McGilp
Greenock Morton Football Club was deeply saddened to hear of the passing of former player Eddie Gavigan, aged just 57. After signing from Celtic Boys' Club on an S-Form in October 1979 as a 15-year old,  Eddie joined Morton on 8th March 1980, and was a member of our Premier Division squad until the end of 1982/83 season, when he emigrated to New Zealand aged 19.
He played for Mount Wellington over there and embarked on a successful business career, which spanned 32 years in the food industry, laterally as Chief Executive of Foodfirst, a 100% New Zealand-owned food co-operative. He was awarded a Postgraduate Diploma in Business, Management & Marketing from the University of Auckland in 1994. Eddie later confided that back in 1983, he didn't even know where New Zealand was.
"My agent at the time had three offers – in Australia, Hong Kong or New Zealand. He convinced me to take the New Zealand offer."
Eddie is pictured back row, extreme right, in this 1982 Morton squad photo.
He was a forward who made his Morton first-team debut in a Premier League match v Airdrieonians at Broomfield in May 1982. The following season he was to make a further 20 appearances for the 'Ton, 13 as a substitute, as Morton battled to retain their top-tier status. He scored his only goal for the club at Love Street, on 16th March 1983, netting a 5th minute equaliser as Morton eventually overcame St Mirren 3-2, with a side featuring many top players such as Roy Baines, Andy Ritchie, Jim Holmes, Joe McLaughlin, Jim Duffy and Davie Hayes.
Our thoughts are with Eddie's wife, Sharon and his four adult children, at this very difficult time.