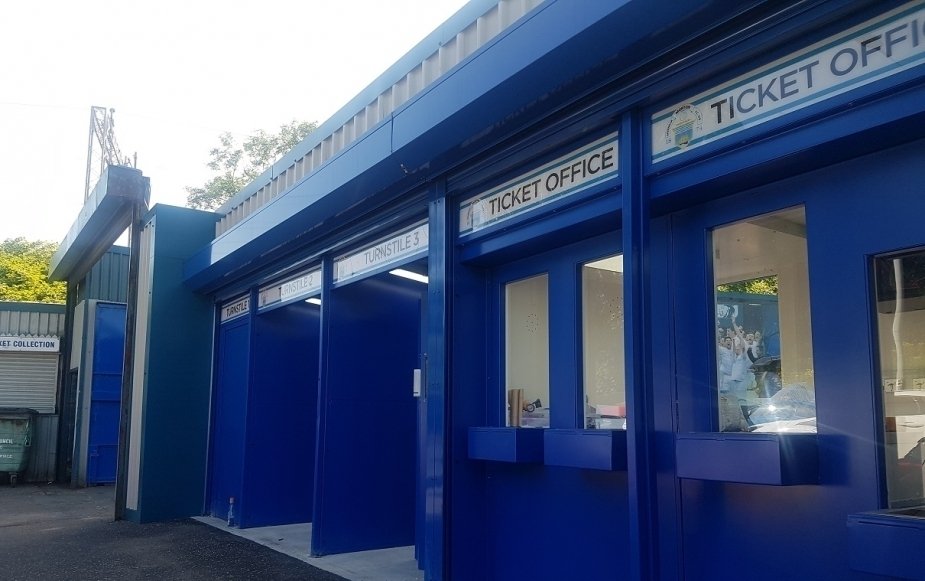 Clyde are the visitors for our final Premier Sports Cup group stage match and tickets will go on sale tomorrow morning (Wednesday 21st at 9am).
The arrangements for fans to enter Cappielow for this match will be similar to those at the playoff final last season. We can't wait to welcome you back for the first time this season, it's almost time to return to the Cowshed for some of you.
We've been granted a capacity of 1,500 for this match, a combination of seating and standing, by Inverclyde Council. Our tickets are limited to home fans only.
Fans who purchased tickets for the East Kilbride match have a couple of options. They can be found below:
You can get a refund via the same method you paid. Please phone or visit the club to arrange that.
Or you can swap that ticket for the upcoming Clyde match. Please bring your East Kilbride ticket along with you as proof of purchase.
Season ticket holders from last season were given access to the stream of last week's match against East Kilbride.
Fans looking to attend the Clyde match can purchase tickets from Cappielow or by phoning 01475 723571. Tickets can be purchased at the following times:
Wednesday 9am to 5pm
Thursday 9am to 5pm
Friday 9am to 5pm
Saturday 9am to 12pm
Tickets won't be available to purchase after 12pm on matchday, Saturday 24th July.
A reminder of the Premier Sports Cup G ticket prices can be found below:
Adult £15
Concession £10
12-18 £8
Under 12 free if accompanied by an adult
For fans that can't make it to Cappielow, you can purchase a TonTV stream here. It's available for £12.
We are selling Cowshed standing and seating, and Main Stand seating tickets first. Sinclair Street standing tickets will go on sale tomorrow (Friday). If they sell out, West Dublin End tickets will go on sale too. Fans will be given the opportunity to select the area of the stadium their ticket will be in, subject to availability. As with the playoff final, there will be allocated entry and exit times for each section of Cappielow.
Main Stand
Entry to the whole stand will be through the Sinclair Street main stand entrance. Entry times are as follows:
Sections F and G – 1.15pm to 1.45pm
Sections C, D and E – 1.45pm to 2.20pm
Sections A and B – 2.20pm to 2.50pm
The stand will exit after the game in the reverse order (i.e., section A will leave first).
Cowshed Seating
Entry to the cowshed seats will be through the Sinclair Street cowshed turnstiles.
The seats at the WDE side of the cowshed will be allocated 2.15pm to 2.30pm for entry. The seats at the Sinclair Street side of the cowshed will be 2.30pm to 2.45pm.
Standing
Standing areas will be accessed through the Sinclair Street turnstiles. There will also be allocated entry times for the standing areas, and fans are urged to arrive early at the stadium. Spectators will be asked to move to the far end of the row of steps and to fill in the available spaces on their allocated rows, subject to the two metre distancing requirements.
The cowshed standing area will be allocated 1.45pm to 2.15pm.
The Sinclair Street standing area will be allocated 2.15pm to 2.45pm.
The Scottish Government have clarified further information around outdoor group gatherings. The 15 person rule is designed for friends and family meeting for a social purpose, attending football matches is included in the defition of "social purpose". 15 friends and family can block book seats/stand next to each other with no physical distancing. Physical distance of 1m is required to any adjacent groups/individual supporters.
For example, if a group of you wished to purchase 9 tickets for the Clyde match, this group of 9 are allowed to sit or stand together with no physical distancing. However, the 9 tickets must be purchased in one transaction, at the same time. 9 separate transactions cannot take place.
The entry conditions will include the requirement that social distancing must be always maintained, and face masks must be worn to cover the nose and mouth. There will be council officials in attendance at home matches to ensure that the club are following the necessary protocols. As such, if fans do not follow the Covid rules they will be asked to leave the stadium.
Supporters must arrive at Cappielow at their designated time. If you are late, you will not be permitted to enter the stadium. Please bear that in mind when purchasing your tickets.
On arrival, your temperature will be checked, and you will be required to sanitise your hands before entry.
Once inside the stadium, stewards will direct you to your seat or allocated standing area. You must remain in your position unless you require the use of the toilets.
There will be no catering facilities available during the match. Please feel free to bring your own food and drink but remember that bottles and cans are not permitted within the stadium.
As with the playoff final, we realise these restrictions make the matchday experience more complicated than usual. Your cooperation with the current rules and restrictions can help us get closer to normality more quickly.
We would like to thank all of you for your support and patience and look forward to seeing you at Cappielow.