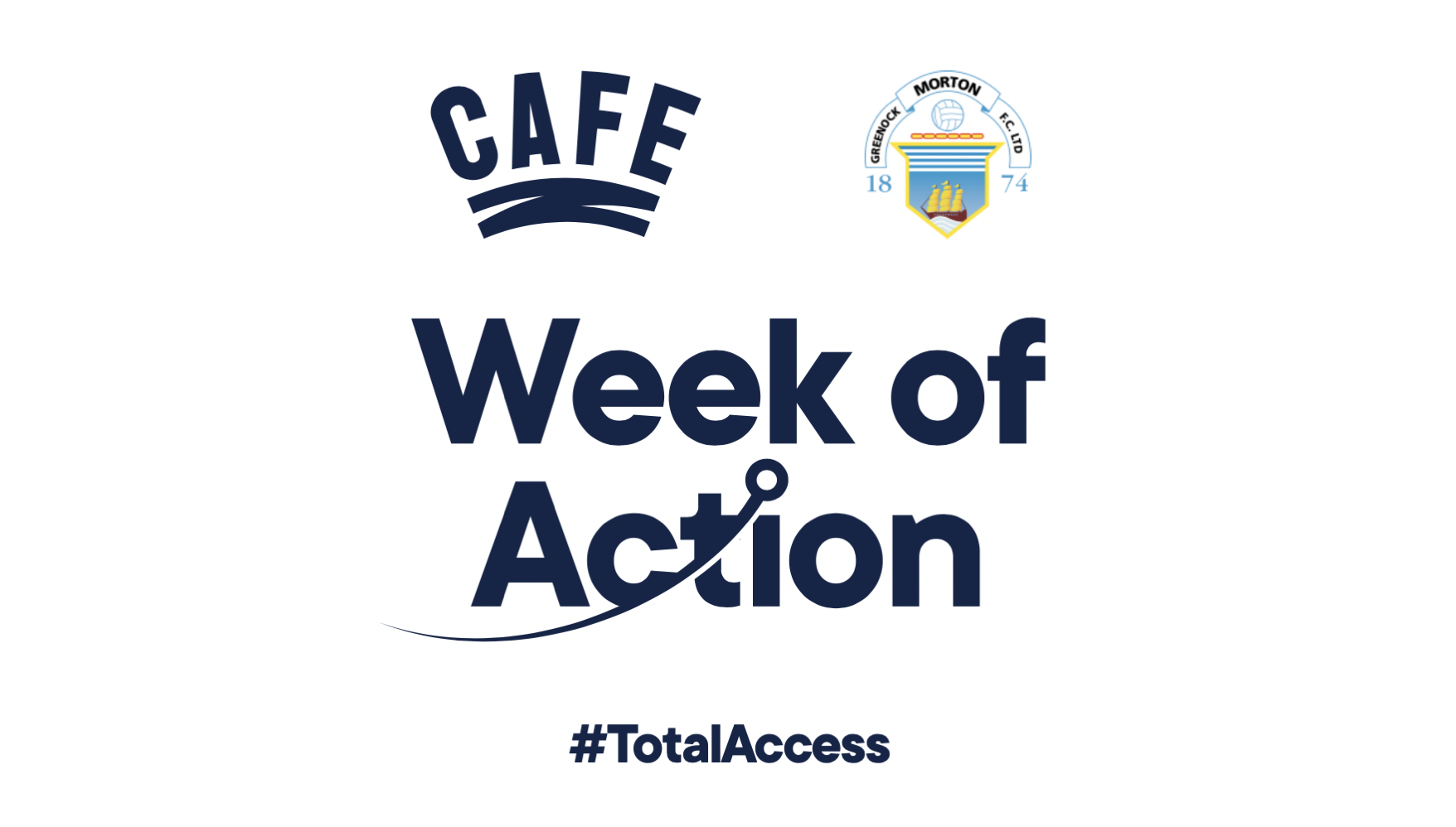 Greenock Morton Football Club is pleased to offer our support to this season's CAFE Week of Action – #TotalAccess.
The CAFE Week of Action is an annual celebration of the many diverse and different roles that disabled people can play within sport.
There are over one billion disabled people worldwide – around 15% of the global population. Despite this, disabled people are often one of the most under-represented groups in our wider society.
In these uncertain times, one thing that is clear is the power of sport to act as a catalyst for disability-inclusive change in wider society.
CAFE's vision is a world where disabled people are a key part of the global sporting landscape, as fans, employees, volunteers and leaders, so that everyone has equal opportunities to contribute in an accessible, inclusive and welcoming environment.
We share CAFE's aim of a totally accessible and inclusive sports industry. This is the standard that we should all be aspiring to achieve, and we look forward to working with CAFE and other partners towards this goal.
During this season's CAFE Week of Action, we will be running an online competition in conjunction with Domino's Pizza to win a pizza delivered to your door for tomorrow's game against Inverness.
We will also be doing an exclusive interview on 'TonTV with our Disability Access Officer Andy Adams to highlight the work he is doing to make Cappielow more accessible on match days.
To find out more about CAFE, you can visit their website at www.cafefootball.eu. You can email CAFE at info@cafefootball.eu, or follow on Facebook (www.facebook.com/cafefootball), Twitter (@cafefootball) and Instagram (@cafefootball.eu). You can also keep up with activities taking place across the CAFE Week of Action by using the hashtag #TotalAccess.
We welcome you to join us in celebrating access and inclusion for all during the CAFE Week of Action 2021.