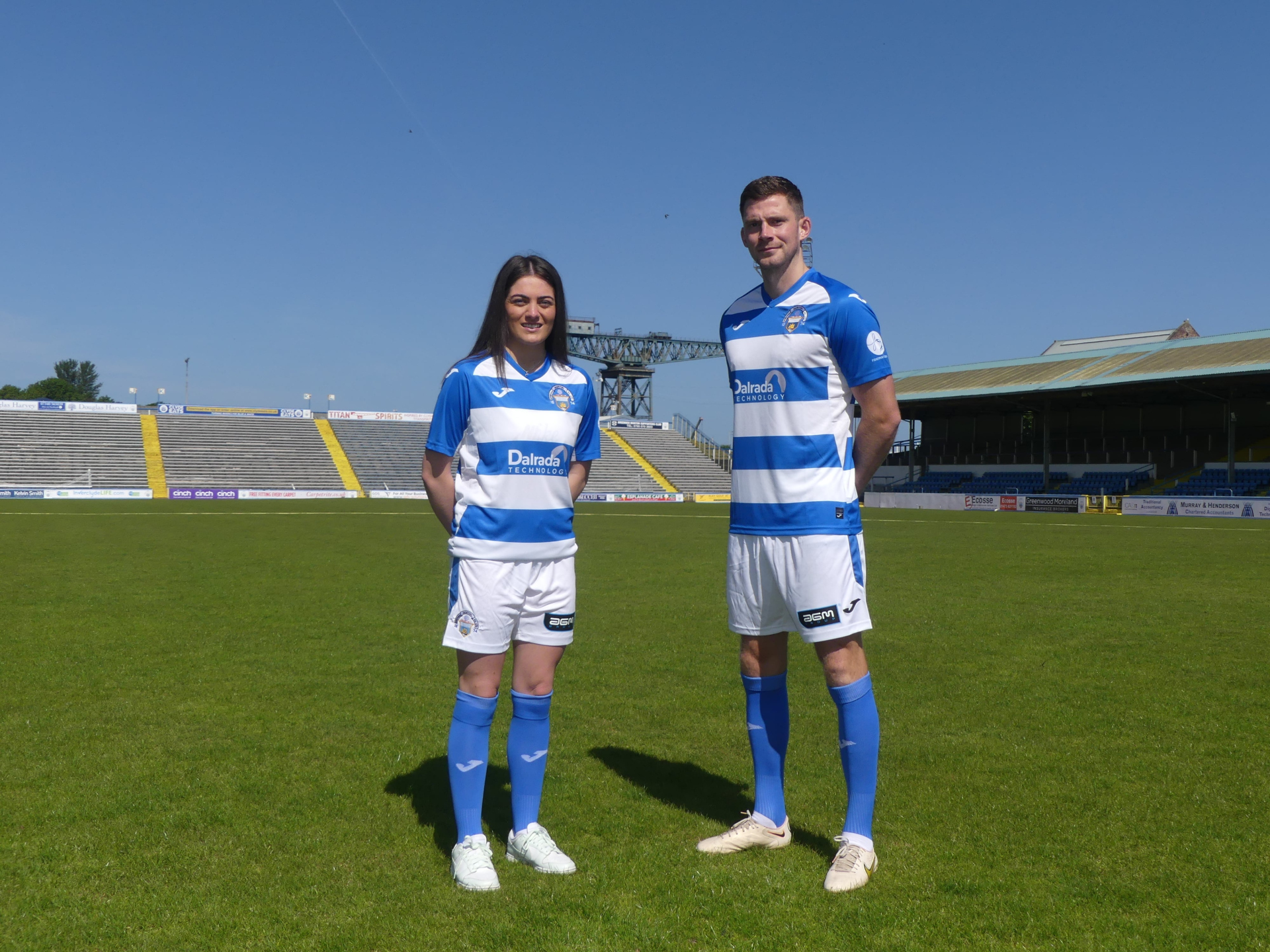 2023/24 New Kit and Sponsors Announced
Greenock Morton are today delighted to show supporters the new home kit for season 2023/24.
As part of today's announcement, the club can also reveal that Dalrada Technology will become the new home kit front-of-shirt sponsor.
Alongside Dalrada, the club would like to welcome HungrySquirrel.com and Cardwell Garden Centre as the new back-of-shirt sponsors, with Fisherman's Dock taking their place as our new sleeve sponsor.
Local company AGM Group will also be represented on the shorts for our kits this season.
The new home kit carries on the tradition of blue and white hoops partnered with white shorts and blue socks.
Last season's away kit will remain as the away kit for the coming season with a new front-of-shirt sponsor to be announced in due course. HungrySquirrel.com, Cardwell Garden Centre, Fisherman's Dock and AGM Group will all be present on the kit.
We are also excited to say we will be launching a new third kit shortly, keep an eye out for that in the coming weeks.
Speaking on the launch, Club Director, Graham Barr, said,
"Following a successful campaign, it's great to feel like we're really building towards next season now with the launch of the 2023/24 home kit.
"Everyone at the club would like to say a massive thank you to all of our sponsors for the coming season, Dalrada, HungrySquirrell.com, Fisherman's Dock, Cardwell Garden Centre, and AGM Group.
"There will be more exciting announcements to come regarding our away and third kits in the coming weeks and we can't wait to share these.
"With more than 600 season tickets sold, momentum is building towards the new season and we can't wait to get started."
William Bonar, Dalrada Technology Ltd. CEO said:
"Sponsoring Greenock Morton is exciting and it creates wonderful opportunities for Dalrada. We're also pleased to partner with Hungry Squirrel, a keto-friendly, low-calorie sauce and dressing specialist.
"It's an honour to see our company name on the jersey and as proud sponsors, we look forward to a successful 23-24 season! C'mon the Ton!"
Sandra DiCicco, Hungry Squirrel President and CEO added:
"Hungry Squirrel is thrilled to be a Greenock Morton sponsor this season, alongside Dalrada Technology. It's an exciting opportunity and we're looking forward to next season!"
Pre-orders will be available from Smiths today with a full launch on Saturday 3rd June at 11am in store.
Please be aware of the following when purchasing the new home top:
• A long-sleeve version of the top will be available.
• The smallest size available will be Age 2-4
• Due to Joma sizing it is recommended to order one size bigger in the adult top
There is just one more day to go to purchase your season ticket for the 2023/24 campaign at early bird prices so make sure to secure your spot! Purchase details can be found here.
We know fans have been asking about the 150th anniversary, and we can confirm we will be marking this with our 2024/25 home kit.