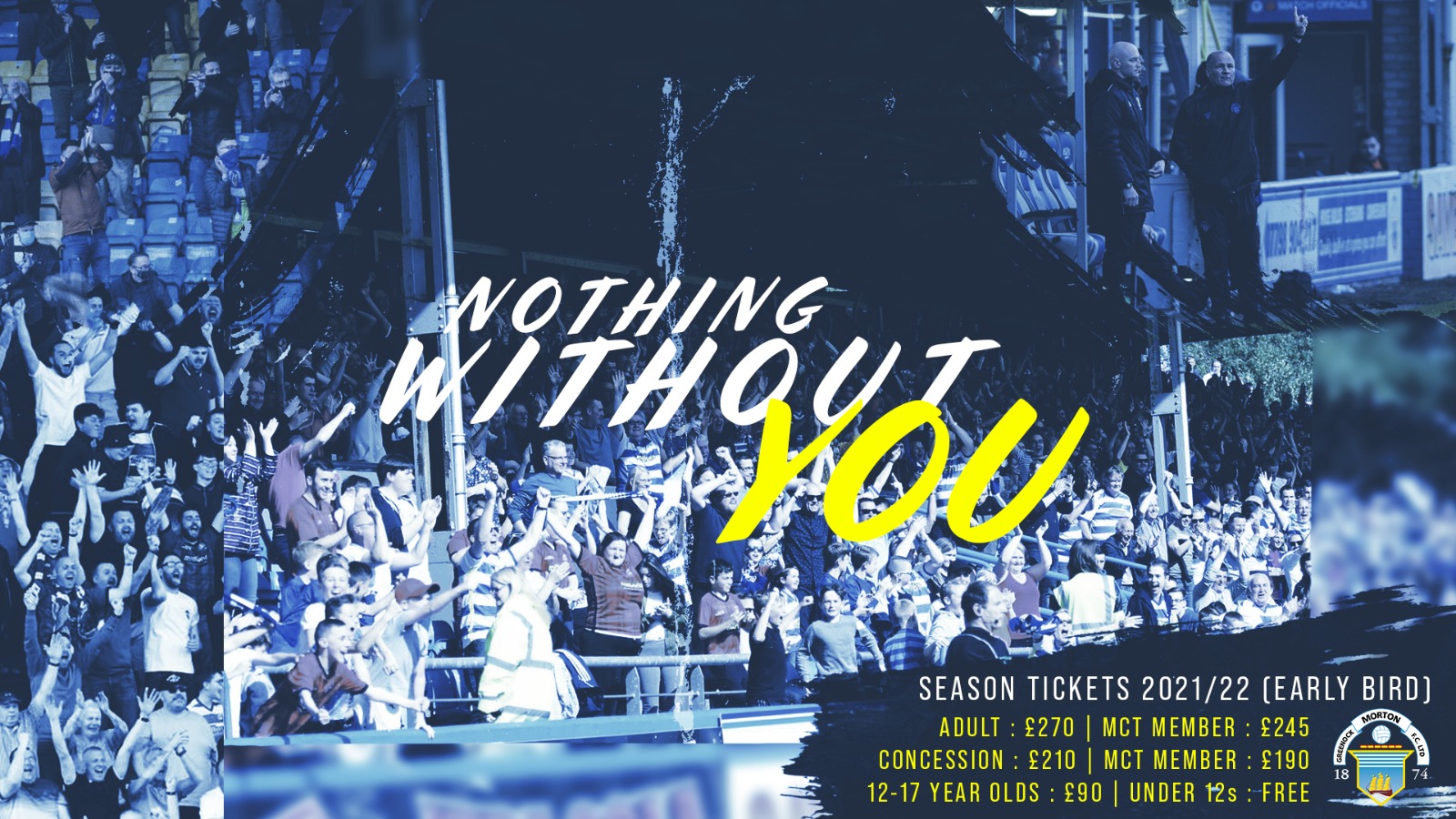 We are delighted to confirm that season tickets for our 2021/22 Scottish Championship campaign will be on sale tomorrow from 10am.
Last season was tough not having our loyal supporters in Cappielow, and the team got a huge lift when a few hundred of you were able to return for the play-off final against Airdrie.
Now, we are looking forward to hopefully welcoming you back for good, and in greater numbers!
As a community owned club, we're nothing without your amazing support.
While things remain uncertain, as things stand, government guidance would permit 1000 supporters to be at Cappielow. It is our hope that by the time the league campaign begins at the end of July, that this will have eased even further.
The club will be committing to running a streaming service for the coming season and as part of your season ticket, if you are unable to attend the game, you will be able to tune in to a stream online.
We are also delighted to be able to recognise the 840 Morton Club Together members who offer support through their monthly contribution, by offering a new MCT member season ticket price. Alongside the minimum contribution of £10 per month, this means as an MCT member and season ticket holder, you will be supporting the club for £1 per day!
We have also listened to the clear feedback from fans in recent years and will be providing a direct debit option this year, as well as an early bird price for non-MCT members.
Please note the early bird prices will be available until Wednesday 30th June and there will be a £10 admin fee on all direct debit mandates (this fee will be split across payments evenly).
Season Ticket Prices are as follows:
Adult (Main Stand/Terrace)
– Early Bird – £270
– Full Price – £290
– MCT Member Price – £245
Concession (Main Stand/Terrace)
– Early Bird – £210
– Regular – £220
– MCT Member Price – £190
Child (12-17 Year Olds)
– Early Bird – £90
– Regular – £100
Child (Under 12)
– £0
Concession prices are offered to those over 65, full-time students and young adults aged 18 to 20 inclusive, and proof of entitlement must be provided. Proof of age is also required for those aged 18 to 20.
Proof of age is required for children between 12 and 17.
To renew an Under 12 season and please contact the club directly.
Renewals
Please note, anyone renewing their season ticket should continue to use the original card they received, as this is simply reactivated and updated with the new league fixtures each season upon renewal.
Seat Release Date
Supporters who intend to renew season tickets in the main stand are advised that the seat release date is Thursday 1 July 2021, whereupon any unreserved seats will be made available.
Being a community owned club fans are at the heart of everything. Over the coming year, we want to engage more with our season ticket holders and offer added benefits.
Please find below some instructions on how you can purchase or renew your season ticket:
Purchase Online
To buy your season ticket online, please visit gmfctickets.co.uk
Set Up A Direct Debit Online
If you are looking to set up a Direct Debit for your season ticket, please follow the appropriate link below:
Adult Full  https://pay.gocardless.com/AL0003WXHTTW05
Adult MCT  https://pay.gocardless.com/AL0003WXHST6Y7
Concession Full  https://pay.gocardless.com/AL0003WXHR4FEG
Concession MCT  https://pay.gocardless.com/AL0003WXHQWXM4
12-17 year-old – https://pay.gocardless.com/AL0003WXHPYV4W
Purchase At Cappielow
Season tickets can also be purchased by visiting the main office at Cappielow between the hours of 9am-12pm and 1pm-5pm Monday-Friday.
Purchase from Smith's
Purchases can be made from Smiths of Greenock between opening hours of 9am and 5pm Monday-Saturday. Please note. Adult Terrace tickets can be purchased and renewed here, Concession Season tickets can only be renewed at Smiths.
Season Ticket Additional Terms and Conditions
Morton Club Together Price

Access to the Morton Club Together season ticket offer is available to people currently paying a contribution to Morton Club Together.
Should you cancel your Morton Club Together membership, your overall payment between your season ticket and Morton Club Together contribution will be considered. The club reserve the right to invoice you the difference between the Morton Club Together season ticket price and full price if you cancel your membership before combined payments equal at least £290 (full season ticket price).
The same as the above will apply to those paying by Direct Debit.
The option to purchase a season ticket at the MCT member price will not be available on gmfctickets.co.uk or at Smith's.
If you're an MCT member and looking to pay upfront for your season ticket, please get in touch with the club directly and they'll be able to verify your details.
If you're an MCT member and have set up a Direct Debit for your season ticket, the club will be in touch with you over the next few days to verify your information and confirm your season ticket location.

Direct Debit Agreement

Greenock Morton will be using GoCardless to collect direct debit payments for season tickets for the 2021/22 season.
The Club will be using the Morton Club Together platform which is used to collect membership monies.
Direct debit payments set up in June will be paid over six payments – June, July, August, September, October, and November.
Anyone signing up for direct debit in July will be required to pay over five payments – July, August, September, October, and November.
The club reserve the right to deny access to anyone who misses a payment with the direct debit.
Should you miss a payment, the club will contact you to discuss the situation before taking action to deny you access.

Streaming Access

For the 2021/22 season, streaming will continue in some form.
As a season ticket holder, you have the option to either attend the match, or if you cannot make it, watch via stream.
Further details on streaming will be provided in due course.