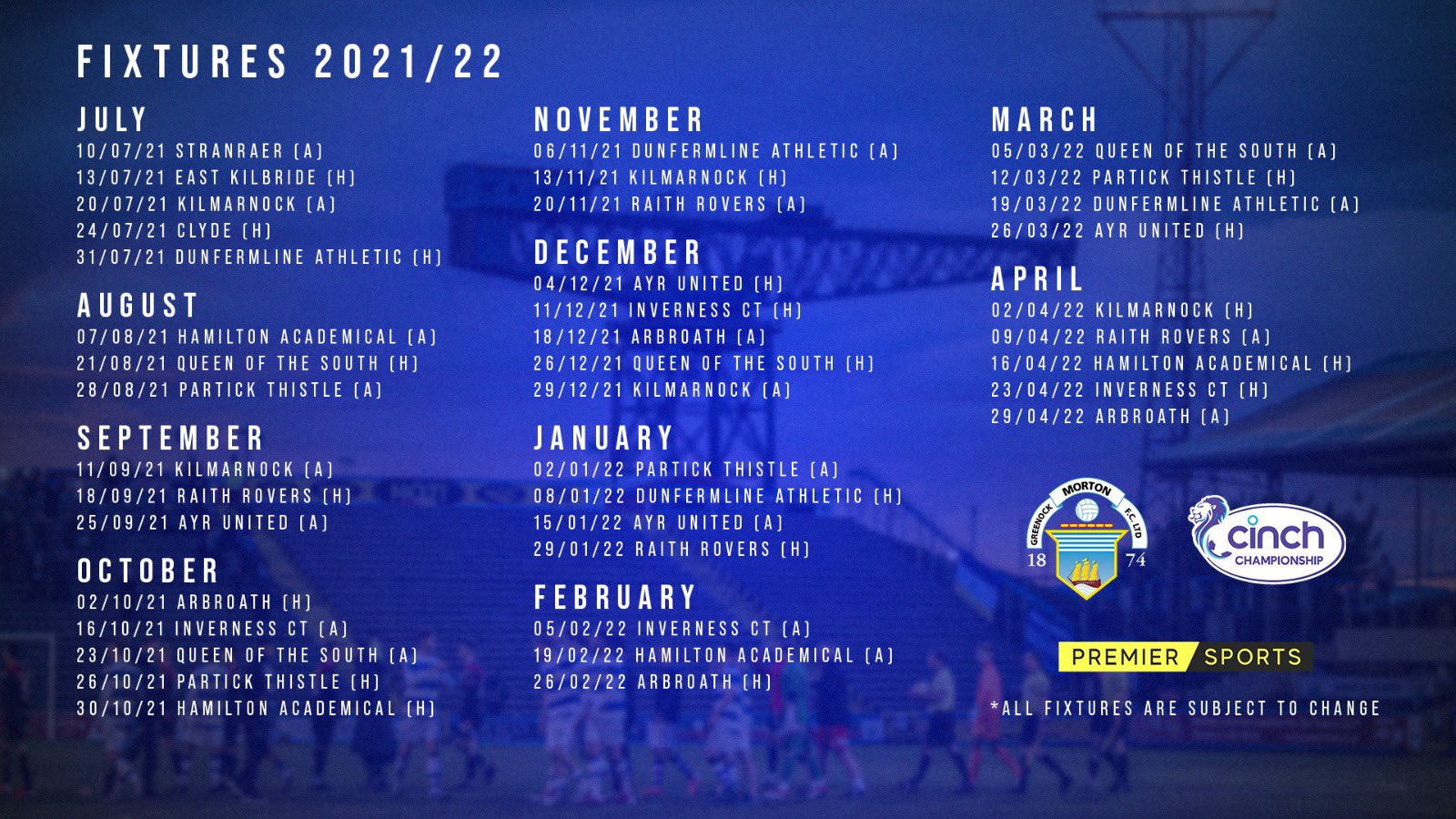 2021/22 fixtures announced
The SPFL have this morning released the 2021/22 cinch Championship fixture list, and we kick off the campaign at home to Dunfermline Athletic on Saturday 31 July.
Our first away match is a journey through to face Hamilton Academical the following weekend.
In terms of our festive season fixtures, Gus MacPherson's men will host Queen of the South at Cappielow on Boxing Day.
We close out the calendar year with an away clash against Kilmarnock at Rugby Park on Wednesday 29 December before taking on Partick Thistle at Firhill on Sunday 2 January.
The regular league season concludes away from home when we take on Arbroath at Gayfield on Friday 29 April.
| | | | | | |
| --- | --- | --- | --- | --- | --- |
| Rd | Day | Date | Kick-off | Opponents | Venue |
| 1 | Saturday | 31/07/2021 | 15:00 | Dunfermline Athletic | H |
| 2 | Saturday | 07/08/2021 | 15:00 | Hamilton Academical | A |
| 3 | Saturday | 21/08/2021 | 15:00 | Queen of the South | H |
| 4 | Saturday | 28/08/2021 | 15:00 | Partick Thistle | A |
| 5 | Saturday | 11/09/2021 | 15:00 | Kilmarnock | A |
| 6 | Saturday | 18/09/2021 | 15:00 | Raith Rovers | H |
| 7 | Saturday | 25/09/2021 | 15:00 | Ayr United | A |
| 8 | Saturday | 02/10/2021 | 15:00 | Arbroath | H |
| 9 | Saturday | 16/10/2021 | 15:00 | Inverness Caledonian Thistle | A |
| 10 | Saturday | 23/10/2021 | 15:00 | Queen of the South | A |
| 11 | Tuesday | 26/10/2021 | 19:30 | Partick Thistle | H |
| 12 | Saturday | 30/10/2021 | 15:00 | Hamilton Academical | H |
| 13 | Saturday | 06/11/2021 | 15:00 | Dunfermline Athletic | A |
| 14 | Saturday | 13/11/2021 | 15:00 | Kilmarnock | H |
| 15 | Saturday | 20/11/2021 | 15:00 | Raith Rovers | A |
| 16 | Saturday | 04/12/2021 | 15:00 | Ayr United | H |
| 17 | Saturday | 11/12/2021 | 15:00 | Inverness Caledonian Thistle | H |
| 18 | Saturday | 18/12/2021 | 15:00 | Arbroath | A |
| 19 | Sunday | 26/12/2021 | 15:00 | Queen of the South | H |
| 20 | Wednesday | 29/12/2021 | 19:45 | Kilmarnock | A |
| 21 | Sunday | 02/01/2022 | 15:00 | Partick Thistle | A |
| 22 | Saturday | 08/01/2022 | 15:00 | Dunfermline Athletic | H |
| 23 | Saturday | 15/01/2022 | 15:00 | Ayr United | A |
| 24 | Saturday | 29/01/2022 | 15:00 | Raith Rovers | H |
| 25 | Saturday | 05/02/2022 | 15:00 | Inverness Caledonian Thistle | A |
| 26 | Saturday | 19/02/2022 | 15:00 | Hamilton Academical | A |
| 27 | Saturday | 26/02/2022 | 15:00 | Arbroath | H |
| 28 | Saturday | 05/03/2022 | 15:00 | Queen of the South | A |
| 29 | Saturday | 12/03/2022 | 15:00 | Partick Thistle | H |
| 30 | Saturday | 19/03/2022 | 15:00 | Dunfermline Athletic | A |
| 31 | Saturday | 26/03/2022 | 15:00 | Ayr United | H |
| 32 | Saturday | 02/04/2022 | 15:00 | Kilmarnock | H |
| 33 | Saturday | 09/04/2022 | 15:00 | Raith Rovers | A |
| 34 | Saturday | 16/04/2022 | 15:00 | Hamilton Academical | H |
| 35 | Saturday | 23/04/2022 | 15:00 | Inverness Caledonian Thistle | H |
| 36 | Friday | 29/04/2022 | 19:45 | Arbroath | A |